As you all know, 2015 was not a banner year for me. Reading was down, reviewing was down, writing was down. I even forgot my blog's 3rd anniversary. What is happening to me?
The Numbers. Only 81 books read. That's down from 97 last year and even more from the year before. But it's still 1.6 books a week, so not all bad.
The gender breakdown is getting closer to parity, but still favoring female writers. One improvement though is that this year I had 2 trans writers!
The genre breakdown, however, makes it appear as though I don't like non-fiction. And while it's true that I haven't read as much non-fiction, I am listening to more as audio books. I even reviewed one or two here.
Author Nationality: The US dominates again. How is that possible for a Canadian living in the UK? And yet … It should be noted that i read 4 translated works this year. That's almost 5%, which is better than I would have thought.
Where in the world my reading took me. Now this is kind of creepy. In both 2014 and 2015 I traveled to 27 countries (cue Twilight Zone music). Different countries, true, but weird just the same.

2015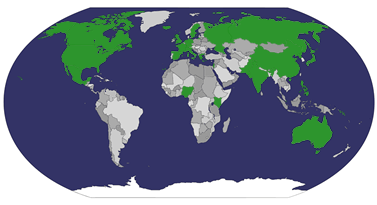 Map Legend: 10%, 27 of 263 Territories

 Green

























Where I read in 2015