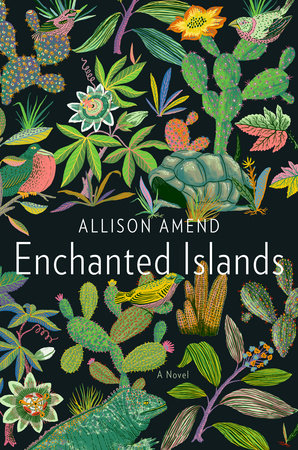 Enchanted Islands by Allison Amend has been on my TBR list for a couple of month, but it's inclusion in the Tournament of Books longlist for 2017 pushed me into reading it now. (As an aside, I've only read 13 of the 120 books on the longlist this year. Eek! How about you?)
Enchanted Islands did not 100% work for me, but the parts that did, Oh boy, they were good. For the good, this is a story about two individuals thrown together to work as spies on the Galápagos Islands in the time leading up to WWII. And, they are based on real people! The Galápagos Islands part is the part that worked for me and almost reminded me of Euphoria by Lily King (review). From me, that is high praise.
The part that didn't work for me was in the beginning and told the childhood and coming of age of Frances Frank, one of our two spies. Saying it didn't work for me is a little harsh, as I still really enjoyed it, but it pales in comparison to later sections.
Who would like this book? The early sections of Enchanted Islands read like a fairly typical Eastern European immigrant story. It is also a great story of a lone woman pulling herself  up on her own, which will make it a good bookclub pick. As I've said, I loved the sections about living in an isolated community in the middle of nowhere. This is a trope i tend to fall for, throw in a little espionage and I'm more than happy.